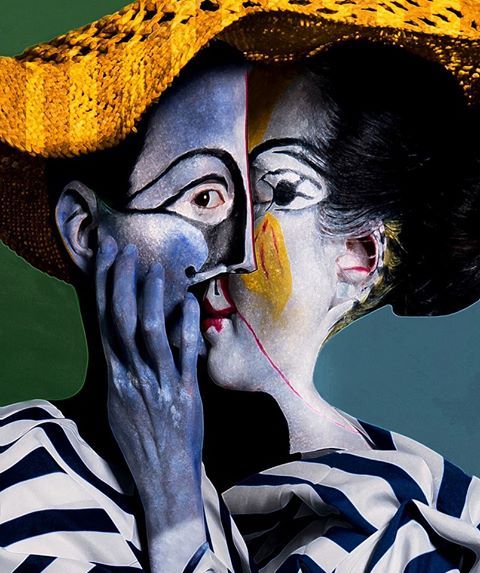 #PAINTING contest winners!
Here, we have the results of the #PAINTING contest.
We had several judging criteria:
Concept & Idea: Idea, Emotion, Feeling, Mood, Impact, Creativity, Originality, Style
Technical Value: Exposure, Focal distance, Focus, Sharpness, Depth of field, Lighting, Noise, etc
Modeling: Model choice, Posing, Commitment, Expression
Makeup, Design, Effort: Make up, Hair, Dress, Design elements, General Effort level, etc
This way, with this categories, a newbie photographer with a cheap camera, but who would go an extra mile, put a lot of effort into the shoot, etc — can win over a professional photographer with a $5,000 worth equipment. After all, this was a contest of TFP projects, not a contest of who has the most expensive camera, right?
---
1st PLACE
I'm proud to present you the winner of the contest! Such a dedication!
This entry also won the "Best Makeup" special category prize! Bravo!
Project idea, makeup and hair: JaDe Rain
Models: Evanne Renae Haag & Nguyen Ngoc Huong
Photographer: William Staudt
Photo Assist: Krystel Lynn Pitts
The team gets the following prizes:
$300 worth SmugMug.com BUSINESS account 12 month subscription


21+ premade site designs, or create your own (no coding needed), Optional HTML and CSS customization, Use your own domain name, Turnkey storefront and e-commerce-optimized galleries, Fulfill orders with top labs: Bay Photo, WHCC, EZPrints, etc. Sell digital photo downloads, Set site wide pricing. Create custom pricelists and coupons to accommodate every client. Group galleries under events for clients to choose their favorites and share with friends and family. Brand shipped client orders and offer gift-wrapped packaging, etc

$130 worth Auto Rise 45 backpack from Vanguard


The ALTA RISE 45 is a backpack that fits a Pro DSLR, 4-5 lenses (up to 24-70mm f/2.8), a flash, accessories and it carries a tripod. The unique +6 expansion system will allow you to add 6cm storage width with one simple zipper motion, offering storage for laptop or tablet, while still keeping gear protected.

$120 worth Tov Photography Studio – 2 hours of studio time


TOV studio is conveniently located in heart of Addison. It's a spacious studio which can accommodate any possible photographic needs.

SPECAL "BEST MAKE UP" CATEGORY PRIZE!
$100 worth of make up product credit from Camera Ready Cosmetics
---
2nd PLACE
Jason cheated a bit. The contest name and theme stated to use a classical painting. We've defined "classical" as "the artist must be dead and the painting should probably hang somewhere in a museum".
Jason's choice — Jeffrey Catherine Jones's painting — isn't anywhere in a museum. Her outlandish paintings are all over fantasy books covers. But she is deceased now, not so long ago, in 2011; so technically — "dead". Considering this, the submission was accepted and — hey! Won the 2nd place!
Photographer: Jason Lott
Models: Ana Buenrostro & Lexie Ray​
Make up: Ana Buenrostro
The team gets the following prizes:
$165 worth Think Tank Modular Component Set v2.0


Low profile, high capacity shoulder bag specifically for your mirrorless camera gear and 8" tablet. Specifically designed for mirrorless gear with premium materials and quality construction. Dedicated zipper compartment for up to an 8" tablet. Low-contrast and matte black appearance with BBG leather accents

$144 worth SkillShare.com PREMIUM account 12 month subscription


Skillshare is a global learning community for creators. Anyone can take thousands of online classes or even teach a class themselves. There are hundreds of photography classes, classes on photo editing, post processing: Adobe Photoshop, Adobe Lightroom, etc
---
3rd PLACE
Vu Man submitted 3 entries for the contest. Three different projects, three different models — and totally according to the contest rules. We appreciate his dedication to win! Of course one of the works won!
This is quite a simple portrait, the one many have copied. But the quality of the work, style, modeling, mood, details — wow! This is exactly how you recreate a painting!
Photographer: Vu Man
Model: Savannah Rae Collins
The team gets the following prizes:
$100 worth Think Tank My 2nd Brain 15″ laptop bag


Slim, soft case specifically designed for Apple products fits a 15″ MacBook, iPad and iPhone 6+ in dedicated pockets. KEY FEATURES: Separate dedicated pockets for a 15" laptop, iPad, iPhone 6+ and other Apple accessories, Expansive accessory compartment with clear zippered pockets and mesh pouches, Premium-quality YKK® zippers and durable, long-lasting materials

$15 worth LensPen MicroPro cleaning pen.


LensPen MicroPro safely and effectively cleans micro camera lenses. With its specially designed tip, it applies the LensPen compound to places its bigger brothers can't reach. Retractable brush removes dust and the unique LensPen Invisible Carbon compound outperforms all other cleaning systems. Now with NEW Invisible Carbon!
---
And finally, let's all than our partners who helped make all this to happen: